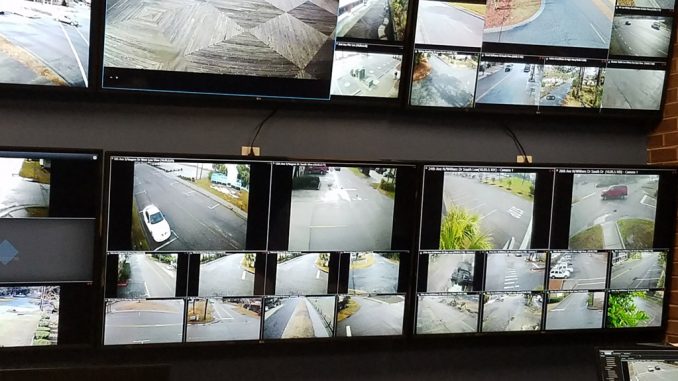 Community Is The Answer
Earlier this month the Myrtle Beach Police Department (MBPD) hosted two Business Community Outreach Partnership meetings. The purpose of these meetings was to bring the business community and the law enforcement community together with the goal of improving communication; thereby preventing and solving crimes.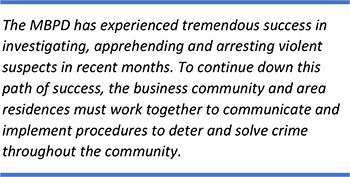 Chief Amy Prock and her staff shared information about how technology, coupled with old-fashioned investigation, has brought about the swift apprehension of criminal suspects in recent weeks. Officers also shared specific suggestions on how business owners, managers and employees can assist the police department in terms of preventing and solving crimes.
Success Comes In the First 48 Hours
Captain Joey Crosby pointed out that the first 48 hours of any investigation is crucial in solving a crime and apprehending suspects. This fact is evident when looking at two recent high-profile crimes that took place in Myrtle Beach.
On January 30, two suspects committed an armed robbery at 901 S. Kings Hwy in Myrtle Beach. Thanks to eyewitness accounts, video evidence, and boots on the ground investigation, the MBPD took the alleged robbery suspects into custody within 18 hours of the robbery. Through agency to agency communication, the same couple arrested for the robbery in Myrtle Beach now face multiple charges associated with an alleged crime spree that started in Asheboro, North Carolina on January 24 and ended when MBPD took the suspects into custody on January 31.
Another violent crime that proves the 48 hour rule, is the January 22 homocide that took place on South Ocean Blvd. One day after the homicide, investigators had identified, tracked and apprehended the suspect in North Carolina. Again, eyewitness accounts coupled with surveillance footage quickly led investigators to an alleged suspect.
Both cases outlined above are evidence that the 815 city installed surveillance cameras, coupled with the newly installed Real Time Surveillance System and personnel, are assisting the MBPD tremendously and swiftly in solving crimes and apprehending suspects before they leave the area – or worse before they commit another crime.
Communication Is Key
As a tourist destination, Myrtle Beach businesses such as restaurants, attractions and hotels host millions of visitors each year. The employees and managers of these business can effectively act as the eyes and ears of law enforcement efforts. Simply put, "if you see something, say something."
The most effective method of communication entirely depends upon the nature of the situation. If a crime is occurring, any witness should immediately call 911 and be ready to provide location and description of the incident. However, as Crosby conveyed, not all information is a true, immediate emergency.
In cases of suspicious activity or reoccurring nuisances such as trespassing, Crosby pointed out that the communication of those details is also imperative. Beyond calling or emailing the police department directly, witnesses are encouraged to utilize the newly developed website and online form to report incidences of concern. A complete list of contact information is below.
What Businesses Can Do
Businesses within the Myrtle Beach City limits can request a site visit to identify steps they can take to deter crime and assist in an investigation if a crime takes place at their business. Such site visits can result in recommendations such as:
Install security cameras or additional security cameras
Remove shrubbery or structures that prohibit sight lines
Add shrubbery or barriers to direct pedestrian or vehicular traffic
Install a security code entry system for employees
Train staff on how to be an effective eyewitness
Encourage employees to stay in communication with law enforcement for both emergency and non-emergency situations via phone, online or email:
Phone: 843-918-1382
Email: patrol@cityofmyrtlebeach.com
FaceBook: https://www.Facebook.com/MyrtleBeachPolice
Twitter: https://twitter.com/MBPDSC
Encourage employees and associates to sign up for the Hyper Reach Mass Notification System. This text alert system notifies subscribers of emergency situations.
Let employees know that they can research what arrests have been made specific to your business' location by visiting: https://p2c.cityofmyrtlebeach.com/p2c/main.aspx
In summary, the MBPD has experienced tremendous success in investigating, apprehending and arresting violent suspects in recent months. To continue down this path of success, the business community and area residences must work together to communicate and implement procedures to deter and solve crime throughout the community.
Please follow and like us: