Bikers planning to attend the 2019 Memorial Day Weekend BikeFest in Myrtle Beach can expect the same public safety guidelines with an increased law enforcement presence and the same traffic pattern.
Memorial Day Weekend Bikefest
Celebrate culture and heritage at this annual event. Atlantic Beach Bike Fest, also known as Black Bike Week or the Atlantic Beach Memorial Day Black Pearl Cultural Heritage and Bike Festival. This motorcycle rally is held every year during Memorial Day weekend. Meet and greets, parties, live music and entertainment will be held throughout the weekend.This year's festivities will take place May 24 – 27, 2019.
Traffic Pattern Information
There will be traffic adjustments and road closures during Memorial Day Weekend to help keep traffic moving and everyone safe. Everyone will have access to their hotels and attractions but should plan accordingly for traffic.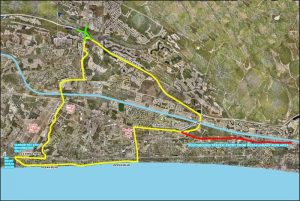 Beginning Friday at 6am, Ocean Boulevard will be closed to northbound traffic, except emergency vehicles, between 29th Avenue North to South Ocean Boulevard and Kings Highway intersection.
There will also be a traffic pattern in place during Memorial Day weekend on Friday, Saturday and Sunday nights between 10pm and 2am in City of Myrtle Beach. The one-way, 23-mile pattern will begin at 29th Avenue North and Ocean Boulevard, then moves south to Kings Highway near the Myrtle Beach Airport, up Harrelson Boulevard to U.S. 501, onto northbound S.C. 31, down southbound Robert Grissom Parkway to U.S. Highway 17 Bypass, and back onto Ocean Boulevard.
During the traffic pattern's off hours, drivers can only access Ocean Boulevard at any Kings Highway intersection with a traffic light. However, four avenues — 8th Avenue North, 16th Avenue North, 6th Avenue South and 17th Avenue South — will be closed off for emergency use.
Business owners and their employees located on the east side of Ocean Boulevard in the pattern area are encouraged to park west of Ocean Boulevard.
Airport Information
During the Memorial Day holiday weekend entry to the Myrtle Beach International Airport after 9:00 PM will be limited due to a traffic diversion route which will impact the area surrounding the airport. All airport passengers and those individuals picking up or dropping off passengers must access the airport as follows:
Airport Entry
Use the Harrelson Boulevard exit off of 17 Bypass North only.
Harrelson Boulevard to Jetport Road (main entrance).
Airport passengers coming south on 17 Bypass must turn around at the next available intersection to enter at the Harrelson Boulevard entrance from US 17 Bypass North.
Airport Exit
Jetport Road to south Harrelson Boulevard
Harrelson Boulevard south to South Kings Highway
Visitors traveling to the north city limits or the North Myrtle Beach area will take South Kings Highway to Farrow Parkway or 544 to 17 Bypass North.
Additional Memorial Day Weekend Resources
Myrtle Beach Information Hotline – 843-918-INFO | 843-918-4636